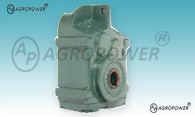 Shaft Mounted Gearboxes is the rugged designed gearboxes that are mounted directly on the driven shaft and have increased power to weight ratio. Being compact in design these are easily handled. Its increased bore sizes enable high efficiency and high performance. These gears can be installed easily and are able to provide high output speeds with high power requirements. Lubricated with oil splash technique, the gears require low maintenance.
Consisting of hardened precision – machined alloy steel gears mounted perfectly on highly finished shafts supported on precision bearings, these gearboxes are able to handle maximum loading. A sturdy support is provided by cast iron casing and which also ensures the proper alignment of the components. In host of applications like in oil refinery, food machinery, paper industry, automobiles etc, these gearboxes are widely used.
Send us your requirements for shaft mounted gearboxes just by clicking on this link goela.parts@gmail.com or call us at +919810645100 and you will talk to Vishal Goela at Goela Engineers (a gear manufacturing company) to discuss more. We shall be more than happy to offer our best services and products.
Design
Shaft mounted gearboxes are enclosed gear reducers with a hollow output. They are normally mounted directly on the upper part of the input shaft of the driven machine and are supported by the bearings and shaft and torque arm arrangement. This reduces the need for extra components to transmit torque from the gear assemblies to the equipment. The components of these gearboxes are bushing ring, torque arm bracket, bushing, torque arm rod and
turnbuckle, input or high speed shaft, foot bracket, and backstop.
Features
Compact, rugged design enable maximum utilization of housing space
Integral cast iron housing gives makes the whole design sturdy
Gears made up of hardened alloy steel
Easy to be fitted
Low noise
Excellent transmission ration
Optimum bore sizes
Steady revolution
High torque helps to provide excellent power transmission
Smooth performing
High accuracy
High power transmission
High output
Long lasting
Applications
Machine tools
Textile industry
Automobile
Oil and gas refinery
Conveyer belts
Vending machines