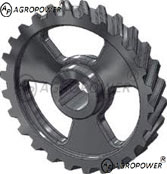 Helical Gears have a cylindrical shape, but their teeth are set at an angle to the axis. They are capable of smoother and quieter action than spur gears. When their axes are parallel, they are called parallel helical gears, and when they are at right angles they are called helical gears.
Helical gears can be used to mesh two shafts that are not parallel and can also be used in a crossed gear mesh connecting two perpendicular shafts. They have longer and strong teeth. They can carry heavy load because of the greater surface contact with the teeth. The efficiency is also reduced because of longer surface contact. The gearing is quieter with less vibration.
Send us your requirements for Gears just by clicking on this link goela.parts@gmail.com or call us at +919810645100 and you will talk to Vishal Goela at Goela Engineers (a gear manufacturing company) to discuss more. We shall be more than happy to offer our best services and products.