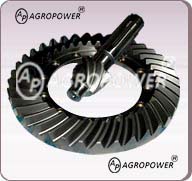 GOELA ENGINEERS are one of the largest manufacturers and exporters of Ring gear pinion and Axle Shafts.Goela Ring & Pinions are among the best in the industry. By using better materials, machining, heat treating and lapping processes, Goela Engineers can ensure a strong, quiet-running, long-lasting setup.  At Goela Engineers we strive to meet consumer demand for new ratios and applications, and we are continually developing new products to stay ahead of the competition. Every new application is put through multi-point inspections and actually installed and set up by Goela Engineering's in-house differential experts to ensure excellent fitment and easy setup.
• Computer controlled fine gear lapping ensures ease of installation, excellent contact patterns and a quiet-running setup.
• Precision machining & heat treating processes ensure strength and excellent fitment.
• Street or strip, track or trail – you can depend on Goela Engineers!
• Rapidly growing application range to meet new demands
 Send us your requirements for ring gears pinion just by clicking on this link goela.parts@gmail.com or call us at +919810645100 and you will talk to Vishal Goela at Goela Engineers (a gear manufacturing company) to discuss more. We shall be more than happy to offer our best services and products.