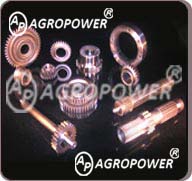 We at GOELA ENGINEERS manufacture and export Transmission Gears and Shafts. >>Transmission Gears: We manufacture these Transmission for application in industrial machinery, trucks, Tractors, Passenger Cars and other LMV'S. These are designed and developed by skilled personnel having years of experience and understanding of these projects. These Gears are manufactured from high quality alloy steels meeting top most quality standards.
These are perfectly cut and shaped so that these can be fitted in to vehicles with utmost ease and comfort. These minimize friction and generate better torque motions. Our sophisticated instrument checks the surface finish of Gears minutely to ensure their noise free operation and reliability. These are available in various dimensions and can also be customized as per customer's specification and requirements.
Transmission Shafts: We manufacture and export premium quality Transmission Shafts. These are manufactured from the finest quality steel. These Transmission Shafts are very sturdy and rugged. These are also free from rust and corrosion because of the presence of finest grade of steel. These are in a very large demand because of their virtually trouble free operation and compactness. These can also be fabricated and customized as per requirements and needs. These are widely used in agricultural and industrial machinery.